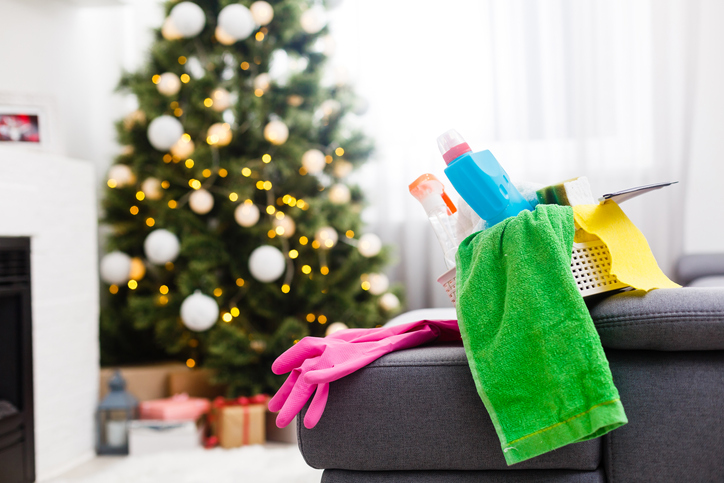 There's no place like home for the holidays! But your home can get pretty messy and overwhelming after a month of festivities. This year, make holiday clean-up a breeze with these tips from One Good Thing. Learn how to make clean-up easy, how to organize, and what your house needs after the tree is gone!
Make Clean Up Easier
Cleaning up can be a bore, and is an event the whole family dreads. One thing you can do is to make cleaning up fun! Do this by putting some music on and enjoying some time together. Another tip is to take a photo of how you decorated this year, making next year's decorating go by like a breeze thanks to reference pictures!
Make a list of what needs to be done and who can help. Some tasks are geared more towards kids than others and with a list, you will know who can help where!
Organize
Organization will save you next year when you are decorating and when you are putting decorations away. Start this year by making an ornament box, all you need is a big plastic tote and plastic cups! Or reuse a piece of cardboard to wrap your lights up so they do not get tangled. Plus, keep wrapping paper safe in a long plastic tote as well, to save you money on paper you have not used yet.
If you need some help remembering what went where, or what was broken, make notes to store with your decorations. Next year you will be so glad you did! If you need to re-gift something, make sure to store it carefully and with your decorations so you do not lose it. Also, make notes of who sent you a Christmas card this year and any updates to addresses you will need for next year.
House Cleaning Needs
Check all your furniture, carpets, rugs, and tablecloths for stains, and treat them before putting any away and moving on from the holiday! Also, clean out any expired food in your fridge and any leftovers that you know will not get eaten. Get a head start by taking all holiday appeal to the dry cleaners before storing.
You might also like: Impress The Family With This Taco Soup Recipe
Recycling and Donating
Live trees are a fun option and a great way to make memories. However, they do need to be disposed of properly. If you have a live tree, look up where there are tree recycling collections happening near you!
A lot of things get replaced during Christmas, many of which are still in good shape. To avoid having a lot of items in your house that will not get used, have a donation box that items go into after Christmas.
Disclaimer: The stock image is being used for illustrative purposes only, and it is not a direct representation of the business, recipe, or activity listed. Any person depicted in the stock image is a model.