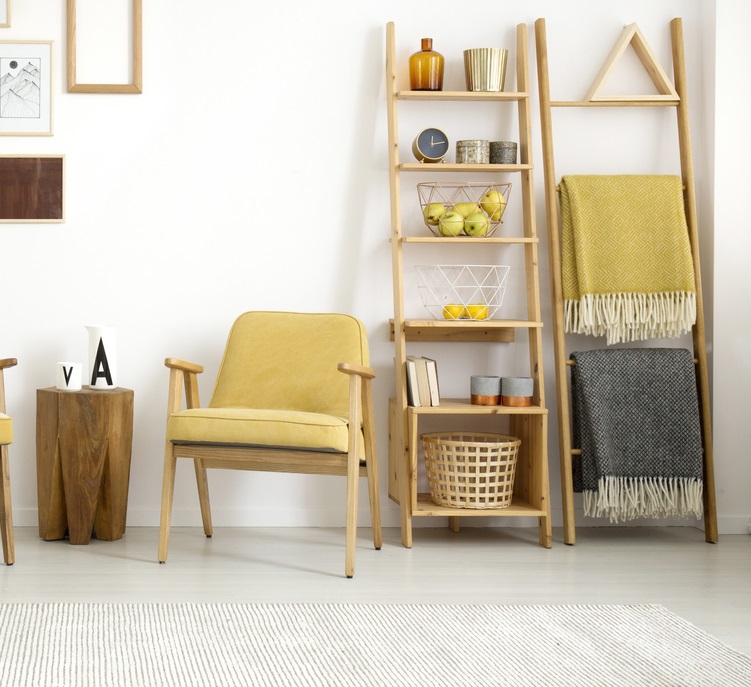 There's nothing like sitting in your favorite chair to read a book or snuggle up with a loved one on the couch on a cool fall night. Regardless of the situation, you can have a throw nearby by making this amazing DIY blanket ladder. The greatest thing about this, it doesn't require a lot of supplies or know-how.
What's a Blanket Ladder?
Just as the name implies, this ladder is made to store and display blankets. Instead of tucking them away in a closet, they lay over the rungs. Not only is this ladder easy to make, but they also make it convenient to grab a blanket. You don't need to spend a lot of money to buy one because you can make a beautiful ladder in no time.
Supplies You'll Need to Buy
To start with, get all the supplies to make a ladder blanket. Usually, you can find them at your local home improvement, hardware, or lumber store. You'll need three 2-inch by 4-inch wood, each measuring 8 feet long. Also, pick up 16 3/8-inch by 2 ½-inch carriage bolts. Other items you'll need to make the ladder include medium grit sandpaper, a bar clamp, foam paint brushes, and both dark walnut and sun-bleached oil-based stain
Supplies You Probably Have on Hand
You might have these items on hand, but if not, you can get them from the same store where you bought the other supplies mentioned. You'll need a compound miter saw, drill with a 23/64-inch drill bit, hammer, measuring tape, pencil, square, and a rag. Because you'll use the rag to wipe off excess stain, use something like an old tee-shirt, clean diaper, or even a towel.
Putting It All Together
Start by cutting two of the two-by-four pieces of wood so they each measure 7 feet long. These will serve as the side rails of your blanket ladder. Cut the third two by four into three pieces that measure 16 inches, as these will be the ladder's rungs. Next, attach the carriage bolts to the side rails. When finished, sand the wood until you get the desired look and smoothness. On the ends of each of the 7-foot pieces of wood, use the pencil to mark 18, 34, 50, and 66 inches. Then, use the square to draw a line across the width of the wood pieces.
The Final Touches
Use the clamp to secure the rungs in between each of the side rails, making sure to follow the pencil lines. That way, they'll be centered. Now, at the marked lines, drill a hole that's three-quarters of an inch from the edge. On each of the side rails, you'll make eight holes, meaning you'll drill 16 total. Then, hammer a carriage bolt into the holes.
The fun part comes next. Using a foam brush, apply the sun-bleached stain to the entire surface of the ladder. After five minutes, wipe off the excess with the rag. Finally, apply the walnut stain, again covering all surfaces and wiping away any excess. After 24 hours of drying, you can start to use your gorgeous new blanket ladder.
You might also like: Take The Dog On A Hike At Hoyt Park Trail
Customization
If you prefer a lighter or darker color, simply choose a different stain other than walnut. Another option you can make designs freehanded or by using stencils. On the first cool fall night, you'll appreciate your work on this project.
Disclaimer: The stock image is being used for illustrative purposes only, and it is not a direct representation of the business, recipe, or activity listed. Any person depicted in the stock image is a model.