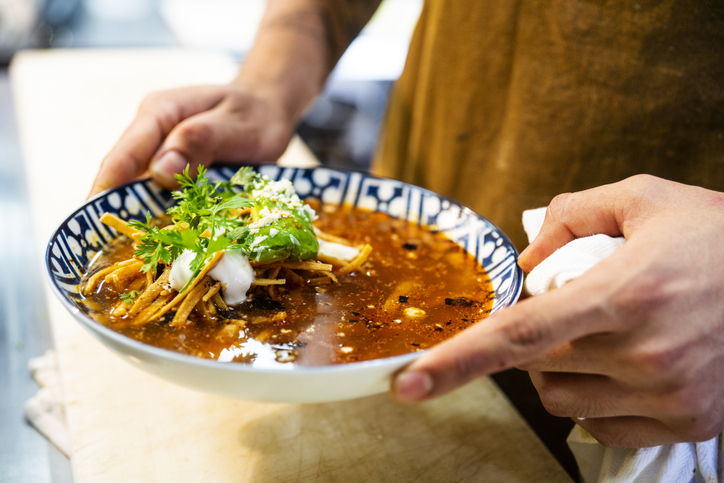 The weather is getting colder, which means you need to find some delicious ways to warm up. There are many great meals out there to try this season, but soup is probably the easiest and hardiest to make. Throw some amazing ingredients in a pot to simmer together, and you have an incredible dinner for the whole family. If you are craving a soup with a little Tex-Mex flair, then try creating this incredible taco soup.
Ingredients
2 teaspoons of olive oil
1 ¼ lbs of lean ground beef
1 chopped medium yellow onion
2 garlic cloves, minced
1 chopped jalapeno
2 14.5 oz cans of diced tomatoes with green chilis
1 14 oz ca of low-sodium beef broth
1 8 oz can of tomato sauce
1 tablespoon of chili powder
1 teaspoon of ground cumin
¾ teaspoons of ground paprika
¼ teaspoon of dried oregano
1/3 cup of chopped cilantro
1 tablespoon of fresh lime juice
1 ½ cups of frozen corn
1 14.5 oz can of black beans
1 14.5 oz can of pinto beans
Toppings
Once the soup is prepared, everyone may want to top their soup with some complementary toppings. Some great toppings for this taco soup include:
Shredded Mexican blend cheese
Chopped green onion
Chopped red onions
Diced avocado
Corn tortilla chips
Directions
In a large pot, drizzle olive oil and heat on medium-high. You will add the ground beef to the pot as well as the yellow onion, browning the meat evenly. Once browned, add the jalapeno and garlic, sautéing for only a minute. You will then drain any excess fat from the browned beef.
Next, you will add to the pot the tomatoes with chilis, tomato sauce, and beef broth. You will then season with the chili powder, paprika, cumin, and oregano as well as salt and pepper to taste. Cover the pot and allow to simmer for 30 minutes. You will need to stir occasionally. After the 30 minutes, you will add in the corn, pinto beans, and black beans, cooking until they are heated all the way through. Make sure you drain both the black and pinto beans before adding to the soup. If desire, you can add half a cup of water to thin down the soup. You can now also stir in the lime juice and cilantro.
You might also like: Take A Hike This Weekend At Amnicon Falls State Park
Ready to Serve
The taco soup should be ready to serve. Get out the bowls, grab a ladle, and set out the toppings. This soup takes only 35 minutes to make, so it is the perfect meal idea to create for your family on cold weeknights.