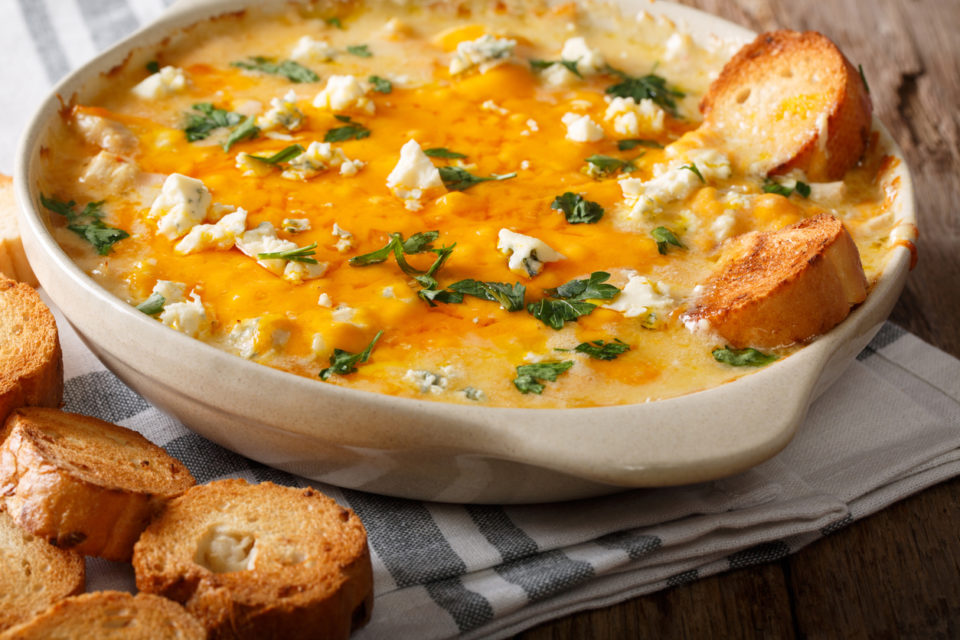 Buffalo chicken dip is a creamy, classic dish that is great for any function! Whether you are making it for a sports game, a birthday party, or a potluck, it's always the first dip to disappear. The best part about this dish is that it couldn't be easier to make. Let's take a look and see how you can make this popular appetizer at home.
The How-To
For this flavorful dip all you will need is two cans of chunk chicken, two 8 ounce packages of cream cheese, one cup of ranch dressing, ¾ cup of Frank's Red Hot sauce, 1 ½ cups of shredded cheddar cheese, one bunch of celery, and one box of chicken-flavored crackers.
If you think the ingredients couldn't get easier, wait until we show you how to make it! Take a medium skillet and heat your chicken and hot sauce until warm. Once your sauce and chicken are warm, mix in the cream cheese and ranch dressing. Stir all of the ingredients together until it is warm and blended. Mix in half of the shredded cheese and pour the mixture into a slow cooker. Sprinkle the rest of your cheese on top, cover the slow cooker, and set on low until your dip is nice and bubbly. That's it! Your friends and family will love it and will have no idea it was this quick and easy to make. The good thing about this recipe is, you can always make a second batch in just a few minutes.
You might also like: Take A Closer Look At Honda Sensing
What To Pair It With
Buffalo chicken dip goes so well with everything. You can get so creative when looking to pair it with something other than chips. You can always pair it with crisp celery sticks or bell peppers to keep it on the lighter side. Bake up some french fries and add the buffalo dip on top, stuff your dip inside crescent rolls and bake them for a warm gooey filling, make a buffalo chicken quesadilla, or even just eat it with a spoon. The choice is yours, and the possibilities are endless!